Retailer Support and Marketing Tools
We pride ourselves on providing you with industry leading sales tools to find the perfect jewellery for your customers.
Over recent years, the emphasis on digital shopping has become more important than ever. We've continued to invest in our online tools, so that our retailers can offer streamline digital experiences in store and ensure that products can be found quickly and easily to meet consumer's expectations.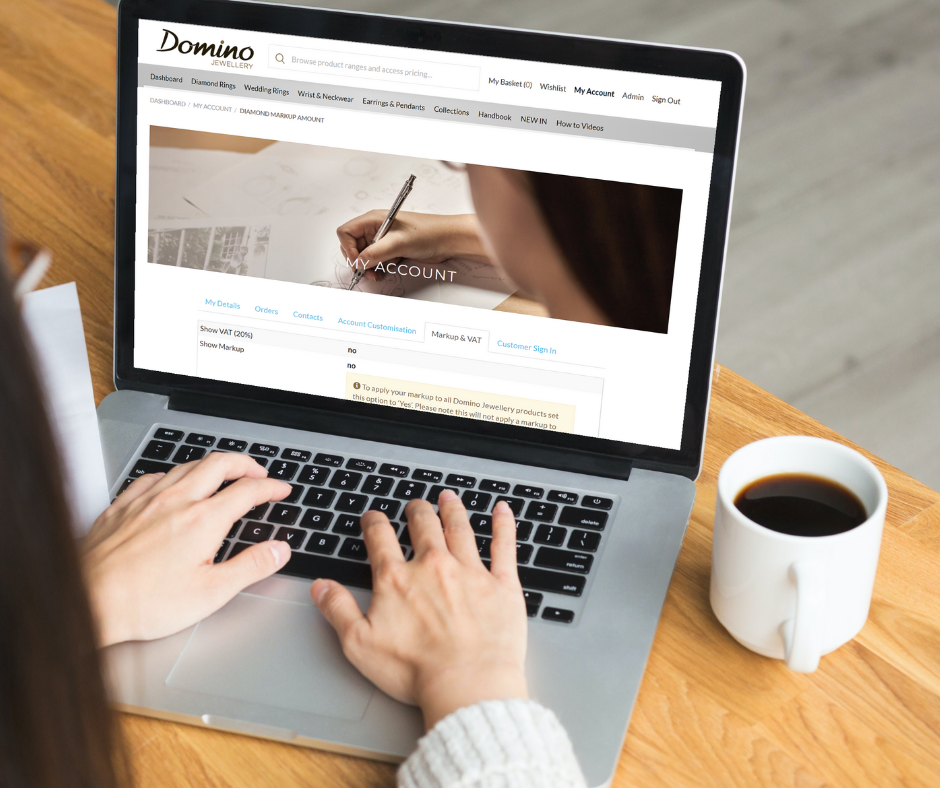 Once you've become an online customer with us, you will have full access to the Domino dashboard which includes features which can be edited to suit your needs, so that you can use it instore with customers, as an extension of your own brand.
Branding: Apply your company logo and brand colours quickly and easily to our website, allowing you to present it as an extension of your own
Mark-up: Set your preferred mark-up so your retail prices appear alongside the products
Certificated diamonds: Create the ultimate engagement ring with ease by finding the ideal mount and the perfect diamond, online and in one place.
Quick price checker: View prices for multiple diamond and metal options at the same time, making it simple to find the best product for you and your customer.
To save you time, we've also create 'How To Videos' to guide you through optimising your dashboard and how to use the shopping journeys if you're unsure, so you can offer a streamline experience for your customers.
Check out this sneak peak preview of some of the features available within the dashboard:
To become a customer, click here.
We also offer a selection of product imagery, helping you to promote your jewellery offering with ease. Our product imagery is perfect for use on your website, offering multi-angle photography on clean, white backgrounds. We also offer a selection of lifestyle imagery too, perfect for social media and e-mail campaigns. Get in touch to request yours today!
To work alongside our website, we offer consumer facing brochures for luxury browsing instore.

Already a customer and want to take advantage of these tools, get in touch:
Telephone: +44 (0) 121 236 4772